The Oregon Trail Gravel Grinder is a 5 stage, 560 km gravel stage race through the heart of the Cascade mountains in Western Oregon. It has big climbs, epic views, some rough stuff, but most of all a great camp life as the organizers set up a racer village every night full of good food, games and an open bar. The highlights were the rivers we would camp at, providing a refreshing relief from the all time heat wave after racing our bikes full gas through the Cascades. It was great to join my Kona Teammates Rebecca Fahringer, Kerry Werner and Barry Wicks for the first time in a couple years for this adventure through the backwoods of Oregon.
The ride itself was amazing as we traversed the high reaches of the Cascade mountain range with alpine lakes and expansive views everywhere we looked.

Cory Wallace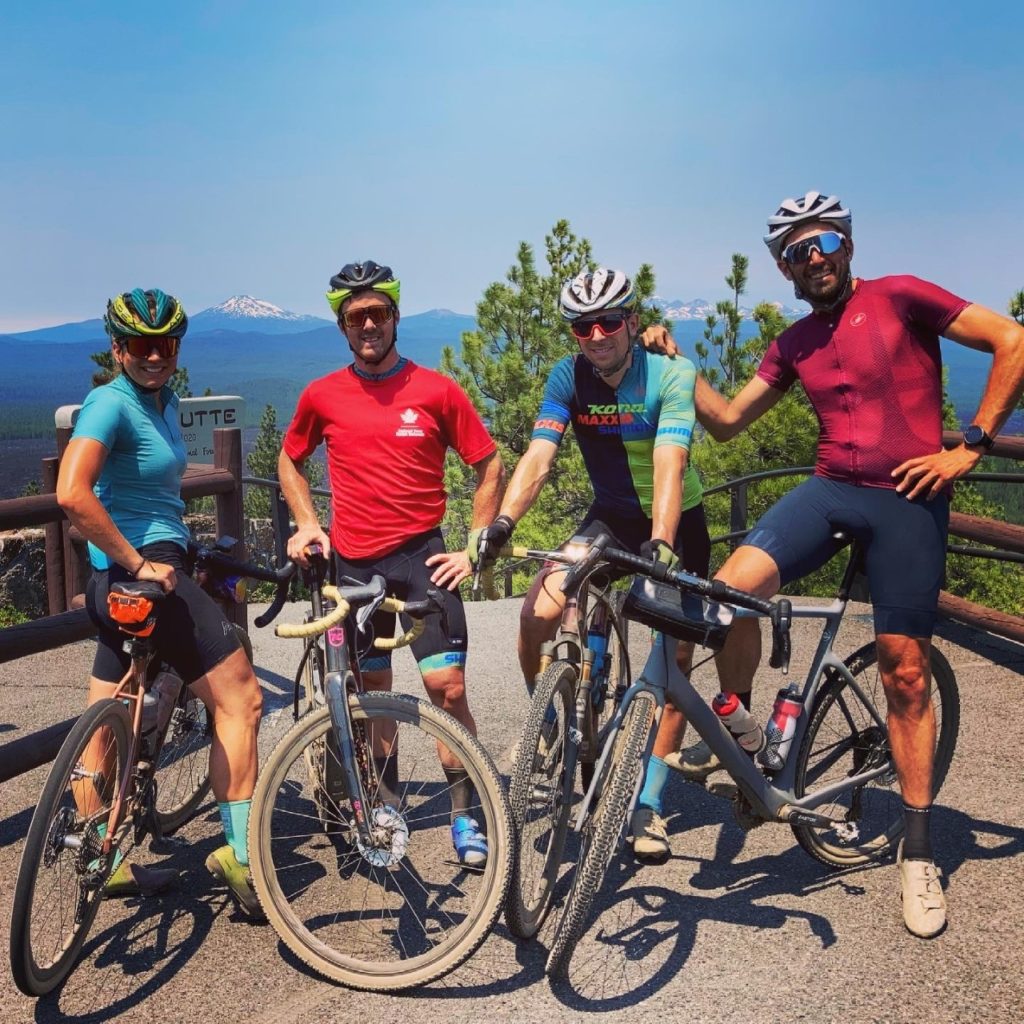 Stage 1: Sisters, OR to Blue River, OR : Miles: 73.5 Elevation: 6,400 feet
Stage 1 started out fast from the gun with World Tour mountain goats Peter Stetina and Edward Anderson setting the tone on the opening climbs. It was mayhem behind as we all tired to figure out where we belonged in the pack, with riders blowing up all over the place. I went out a bit hard, but unlike Unbound, I backed it off and found a somewhat sustainable rhythm in the top ten, riding near my teammate Kerry Werner and past BC Bike Race champ Tristan Uhl from the Giant Off Road team. This stage was the most technical of the week hitting some soft sand and Volcanic pumice at the top of Santam Pass. Barry set me up with a 2.1 Maxxis Aspen on the front and a 50 C Rambler in the year which was a nice advantage to float through this stuff as I strava KOM'd the rough Wagon road part of the descent and bridged back up to the chase pack of riders in 4-9 position. It was a wild descent, basically a sandy luge run full of sketchy Volcanic rocks which gave alot of riders flat tires.
Our Kona Team were given some Fox Prototype RAD gravel suspension forks for this race and they sure made a difference through these rough sections! After this we hit some faster roads on the moister westerly side of the cascades which made for a road race over some tough climbs to the finish.
Unfortunately I found my self in no mans land, 30 seconds back from a group of 5, but the legs were struggling a bit this stage, possible due to racing the 205 km Skull 120 in Burns Oregon 3 days prior. It was survival mode to the finish, at the last feed a rider in jean shorts caught me. I thought oh damn am I ever struggling but I soon realized this guy was a proper bike racer with a strong history, Maxx Chance. We rallied the descent hard to the finish, found some other riders for a swim in a nearby reservoir, and then rolled on to camp to kick off the camp life for the week. Finding an axe throwing contest in camp, we new we were in for a fun week ahead!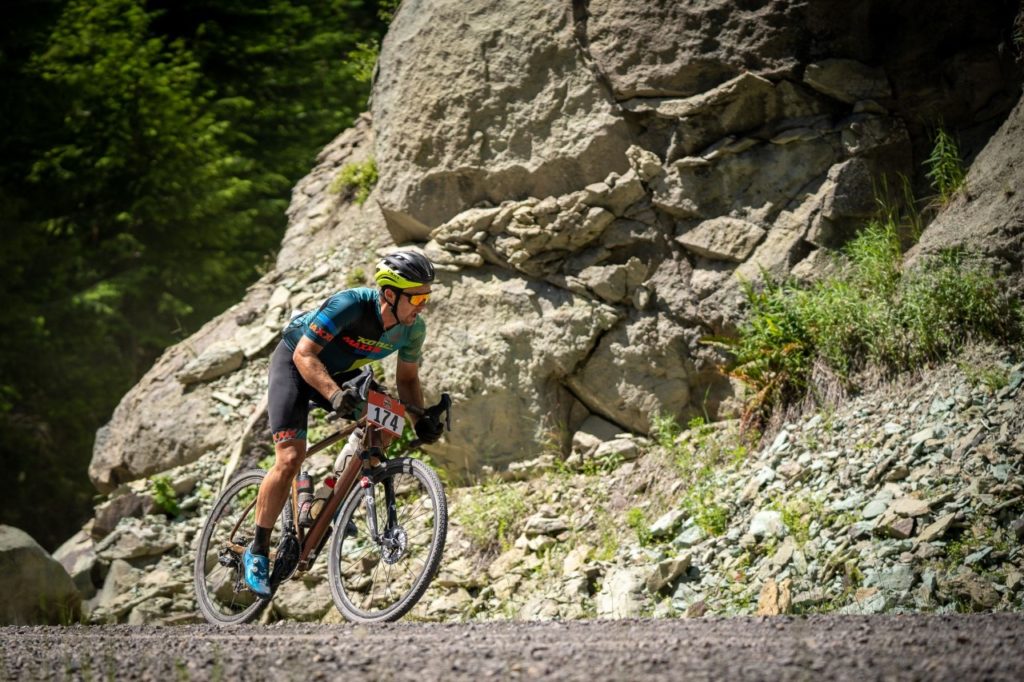 Stage 2 Blue River to Oakridge : Miles: 59.2 Elevation: 6014 feet
This stage started with a pretty long neutral roll out before starting a log climb over a pass towards Oakridge. The pace picked up as the gravel road pointed up, I soon found myself with Geoff Kabush as we did our best to minimize the damage on the climb as we were hoping to use out MTB skills on the descent to bridge up to the lead group of 3 roadies.
Unfortunately the descent was a fast gravel road which offered no advantage. We kept on the gas and stayed within 2-3 minutes of the leaders for the duration of the roadie style stage to roll in 4th & 5th. It was pretty cool working together with Kabush this Stage as the last few times we met it was head to head at BCBR or Canadian Marathon Nationals. Apparently over 100 Canadians had signed up for this race but due to the border restrictions couldn't come. We did our best to represent.
In Oakridge we found an amazing camp set up along a crystal clear mountain river. Jumping into the fridgid waters filled the rest of the day as we tried to survive the 35-40C degree record breaking temperatures.
Stage 3 Oakridge Loop: Miles: 53 Elevation: 5433 feet
Day 3 was a treat as we had a shorter stage on tap and would be returning to the same beautiful riverside campsite in Oakridge. The racing wasn't much easier as we had a spicy start on the first hill before a group of 30-40 riders came together for some tight pack racing along a pothole riddled gravel road. Gravel racing you always need to be alert as the ground is covered with holes and obstacles looking to take riders out. It was a relief once the road started up the 1100 meter climb for the day as the group split apart and soon we were 9 riders. Kerry and I were both near our limits at the back of the lead group when one rider was either suddenly drunk or started to get heat stroke and was weaving back and forth, eventually putting a foot down, opening a gap to the ever accelerating lead group. I managed to struggle to get back on to be the 7th rider, while Kerry would settle in just behind.
After rolling along the top, we hit the 2nd feedzone which was suppose to be just before one last small climb, and then a 20 km fast descent to the finish line. I pulled in for a drink thinking we still had a ways to go, but the other riders kept on the gas, opening a small gap. Trying to close this didn't work as the group sprinted over a small rise and into the final descent. It was a wild ride drifting around the gravel corners at speeds well over what we would travel at during a training ride.
I managed to get up to a group with Pete Stetina and Colton, and opted to stick with them instead of risking to much by attacking off the front. With so many blind corners it was a bit sketchy as I kept having flashbacks to Australia when I followed Jason English around a blind corner at Crocodile trophy at 60 km/hr and seeing him smash into a oncoming car at full speed. There's been a few incidents in India as well so I was more then happy to cruise in with these guys to for 7th. Kerry must have bombed the descent as he rolled in right behind us.
We, along with our teammate Rebecca and Geoff Kabush have all been running new prototype Fox RAD gravel suspension forks which have been a game changer while racing and riding on rough gravel roads! It sure takes teh edge off the gravel and makes the long days a bit easier on the body. Back in camp we balanced the rest of the day between cooling ourselves in the river, eating Carbs to prepare for the upcoming Queen stage, and drinking the odd Pineapple cider.
Stage 4 Oakridge to La Pine: Miles: 93.7 Elevation: 9837 feet
Stage 4 was the Queens stage. Being out of contention for the overall, Kerry and I decided we would send a flyer at the start gun and hope for the best. We rounded up our mountain bike racing buddy Tristan Uhl from the Giant team and off we went at 7:30 am as the start pistol shot off. We immediately gained a decent gap, Tristan was pulling hard up the first hill which quickly loaded the legs with lactate, not the best feeling heading into a 5-6 hour day of racing but we were committed now! Our teammate Rebecca, was upset we didn't bring her along on the break away and provided some comedy relief back in the pack trying to get the other riders to pull her up to us! We did tell her the plan so not sure if she missed her cup of coffee in the morning or what was going on back there 😉 Unfortunately for us the peloton behind us decided to take chase and we were soon caught, 45 minutes into the race, and just 1/8th of the way up the massive 32 km opening climb. Just 5 riders were in the lead group after what was apparently a hard chase! Mathew Fox, who was sitting just ahead of us in GC at 5th overall wasn't there which was a great sign. Kerry sacrificed himself to give me a slingshot up to the lead group as they passed and onto the pain train I went. I suffered hardcore and would get dropped on the steep sections but could regain the group once it flattened out a bit. It was a suffery 40 minutes but I knew if I could go over the top with these guys that I could likely hang on for the day.
Unfortunately myself and, Ryan Petry both got shelled near the top as Stetina put in a strong pull. Gravel racing is tough as you want to stay in the fastest group possible but at the same time you need to try and ride within yourself to make sure you don't blow up. I had gone over my limit and soon Ryan had a minute on me as I battled some lower back pain to go along with the scorching heat.
The ride itself was amazing as we traversed the high reaches of the Cascade mountain range with alpine lakes and expansive views everywhere we looked.
Eventually we hit an Old Military Wagon road which swooped its way through the woods. Rolling into the 2nd feed, my teammate Barry Wicks was there as he had left on the early start time, this was key as he helped refill my bottles as I did a quick transition and then bombed the rolly wagon road to catch back up to Ryan. This made the day alot better for both of us as we still had 2 + hours of sandy roads to go. He would take 5th in the sprint, as I then waited for Matt Fox to see how much of his 11 minute gc lead on me I had clawed back. Unfortunately it was just 4 minutes, which left him 7 minutes ahead going into the last stage.
Camp this night was in La Pine, it was hot, we drank alot of La Croix waters and tried to eat some food to prepare for the final stage on deck.
Stage 5 La Pine to Sisters: Miles: 83.3 Elevation: 6491
Stage 5 was another big day as we would hit the highest point in the race at around 7000 ft and would eventually have a mountain top finish at the beautiful Three Peaks lake. The day started on some sketchy double track roads which turned into a dust storm as we cruised through it, blocking any vision of rocks and ruts. The choice was to either fall off the draft of the wheel in front of you and hope for the best or to drop back, get dropped, but have a clear view of the track. With the strength of the riders in this years race you had no chance unless you stuck with them so we all did our best to survive this section.
It was a hard and interesting race from the gun as Colton, in 4th place, was just 2:20 minutes behind Kabush in GC for 3rd, and I was just 7 minutes behind Matt Foxx for 5th. Our lead group was soon down to 6, and I could see Matt dangling, so I put in a few hard pulls to try and lose him. My only chance to get 7 minutes back on such a strong rider would be if he got dropped early on, and then I could stick with the lead group for as long as possible. These were tough efforts, and I new I was risking blowing up myself but it was an all or nothing kind of day.
Eventually Stetina would break off the front with Edward chasing hard in 2nd, and then our group which contained Colton trying to drop Kabush, with myself and Matt clinging to their wheels, waiting to see who would blow up first. Unfortunately my back would start to tighten, and I would pay for the earlier efforts, being the 1st rider to blow up. This was a bit depressing as we still had 40 miles to go and I was now in no mans land! Eventually the chase group with Ryan, Kerry and Tristan would catch up at the 2nd feed zone just before the final big climb of the race. Ryan would leave the feedzone first, I waited for Kerry in hopes we could ride together and catch back up to Ryan. It was a tough exposed climb and in the end everyone just had to ride there own pace up it. Not far ahead was Matt Fox as he had also blown off the back of the lead group but it was too little to late as I would eventually cruise in to take 7th on the stage and 6th overall in GC to cap what was a much tougher week of bike racing then most of us had expected!
The highlight of the week was for sure the dip in 3 peaks Lake after the stage. We could've stayed in there for the rest of the day but we still had to get back down to Sisters for the awards and to eventually pack our gear to cap what was a great week of bike racing and camping. The 15 mile descent back to Sisters felt like an ever increasing sauna as the temperature was nearing 43C degrees!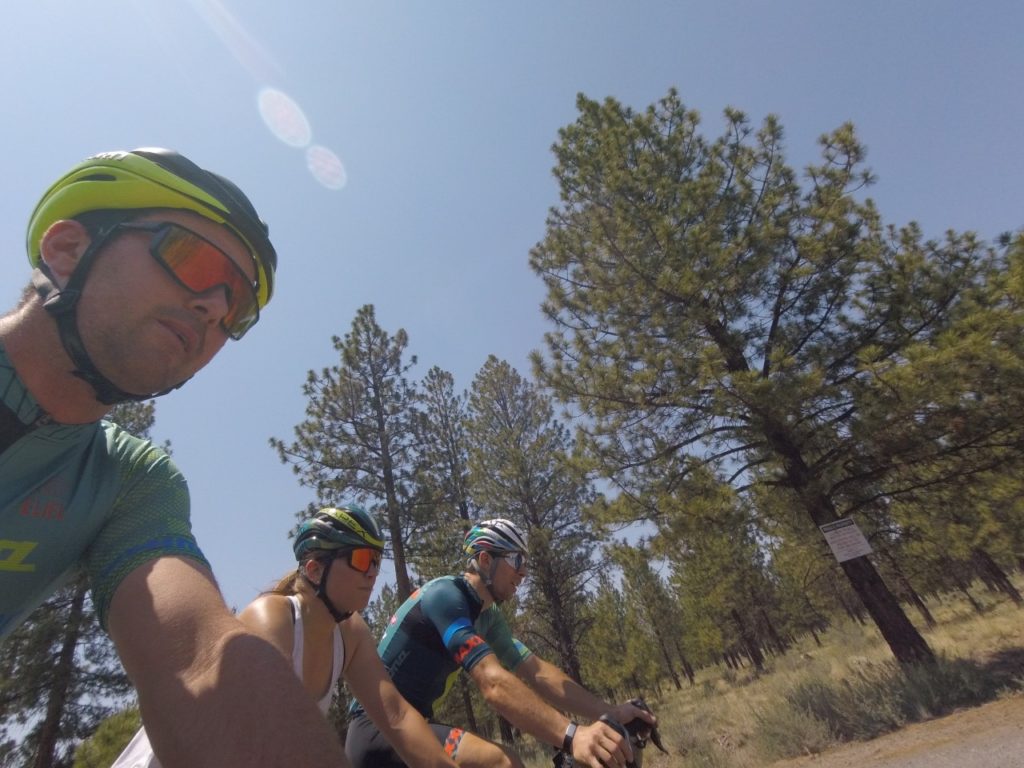 Overall the Oregon Trail Gravel Grinder definitely lived up to its expectations as the balance of hard bike racing and a very chill camp life made for a very memorable week through the Oregon Cascades!
Being with my Kona Teammates for the first time in a couple years was the highlight as we could help each other through the good and bad times and certainly enjoyed more then our share of laughs for the week. We topped this off with a team camping/ sailing trip on Tuesday/Wednesday near Bend. My plan was to try for an FKT on the 580 km Oregon Outback right after this but the record breaking heatwave was quickly turning it into more of a survival mission with increasing sandy conditions and intense heat! I opted to save this effort for a better time as theirs still a pile of racing ahead this year and an effort like that during a record breaking heat wave would dig quite the hole for sometime. Plan B is now in the works as I'm looking at a backroads route from Bend Oregon to Vancouver BC to bike pack home on.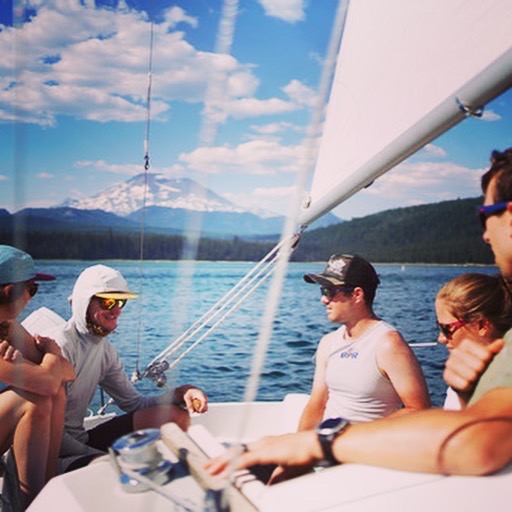 Big thanks to Barry, Matt, Patrick, Sean, Rebecca, Kerry, Zach, Chris and everyone else that helped make the past few weeks in Bend a great time!
Tonights destination is hopefully somewhere camping along the Deschutes river 100 or so miles from here.
You can track the bike packing trip back to Canada here: https://share.garmin.com/OregontoCanada
Over and Out From America!